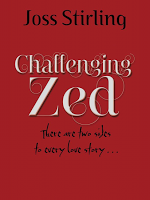 Challenging Zed is a short story eBook from Zed's perspective of when he first met and fell in love with Sky Bright. It was released on February 14, 2013.
Want to know what Zed Benedict was thinking when he met his soul mate Sky Bright for the first time? Find out for FREE in this compelling short story. The Benedict brothers all have different abilities and powers. One can move things with his mind, another can heal. Zed Benedict is the youngest and the most powerful of the seven brothers and he is on the road to destruction until he meets his soul mate Sky Bright. She is his balance, the light to his dark. Together they are even more powerful. Zed knows that they are meant to be together and that there is a connection that cannot be denied. But how can he convince Sky that their destinies are entwined when she doesn't even realize the true nature of her potential? A brilliant addition to the Finding Sky series for both new and old fans alike.
Ad blocker interference detected!
Wikia is a free-to-use site that makes money from advertising. We have a modified experience for viewers using ad blockers

Wikia is not accessible if you've made further modifications. Remove the custom ad blocker rule(s) and the page will load as expected.